A number of remarkable women teachers and scholars dot the campus at Lehigh. Careers for women in science, though, have historically been dominated by men. February celebrates the International Day of Women in Science. Meet a few women who are impacting our world and inspiring the next generation of scientists, engineers, and entrepreneurs.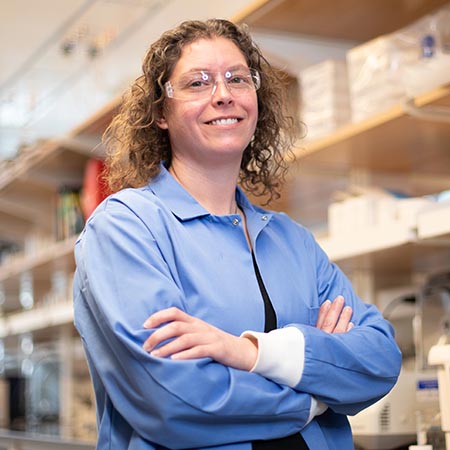 Kelly Schultz 
Associate Professor
Chemical and Biomolecular Engineering
Inspiration
After high school, college was not in the plans for Schultz. Instead, she joined the company at the Atlanta Ballet. Soon she returned to the conservatory where she trained in Connecticut to study and work part time. That's when her parents encouraged her to take college classes part time as well. She eventually enrolled full time at Northeastern University to study chemical engineering. 
Journey
As a co-op school, Northeastern had Schultz immediately active in experiential learning. Her hours in the classroom were balanced by semesters where she worked full time, first at a biotechnology company and, eventually, at an MIT lab. She began her graduate studies in rheology at the University of Delaware where she focused on gels, specifically medicinal gels being investigated for implantation in the body to enable healing. While at Delaware, she was also a Shirley and Fraser Russell teaching fellow, a program that helped graduate students become better teachers. She completed postdoctoral studies at the University of Colorado in Boulder. 
As a Woman in Science
Schultz had strong female mentors as an undergraduate and graduate student. The benefit of being surrounded by those women was made clear when she arrived at Lehigh and was the only woman in her department. For the first time, she faced doubts and questions on what she'd be capable of teaching and her ability to succeed in research. To help others feel a better sense of belonging, she now serves as co-chair of the P.C. Rossin College of Engineering and Applied Science Diversity, Inclusion, and Equity Council at Lehigh and founded a similar committee in The Society of Rheology.
Research
Schultz is focused on two main research projects. The first is on characterizing biomaterials, which are gels, that can be used in the body to deliver stem cells to wounds. The second is in conjunction with Procter and Gamble Co. as she works to design cellulose-based fibers to replace the wax fibers used to deliver cleaning agents from their existing fabric and home-care products.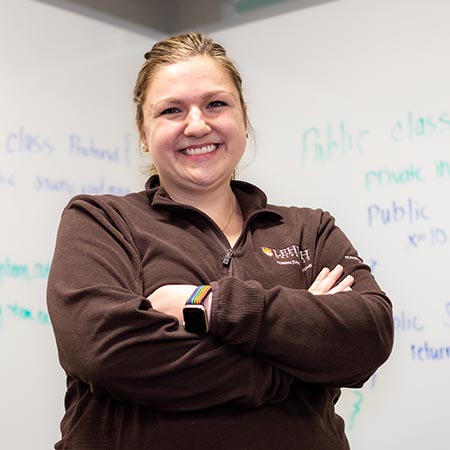 Kallie Ziltz
Assistant Teaching Professor
Computer Science and Engineering
Inspiration
Ziltz came to the Lehigh campus when selected in high school for the Pennsylvania Governor's School. While she liked the campus and assumed she'd apply here, she did not expect to attend the university. Like many high school students, she imagined her college journey would take her farther away from home. Fate intervened as she started at Lehigh as an international affairs major. Then she heard that the computer science and business program boasted a 100% job placement rate, so she took an introductory CS class. While she had worked in basic HTML language on her MySpace page, she stumbled through the introductory class. She even called home in tears one day when she received a low grade on an exam. By her senior year, she was in love with the field and classes and even worked as a teaching assistant.
Journey
She is still at Lehigh, feeling the university has always supported her as a woman in STEM. Ziltz first earned her master's degree in instructional technology through the College of Education in 2018 and then enrolled in the doctoral program. As a teaching professor, her emphasis is on teaching and advising — the two areas she is most passionate about.
As a Woman in Science
Often as the only woman in her undergraduate classes, Ziltz understands how isolating her field can be. As an undergrad, she had a male student praise her one day by saying, "You are good at coding for a girl." Today she is diligent to help students who display any signs of imposter syndrome. Ziltz attends women in computing conferences and serves as advisor to the women in computing club that she helped form years ago. She is pleased to see that nearly half of her classes are comprised of women.
Research
She wants other students to avoid the stumbling blocks she faced and dedicates her research to teaching — how to best engage and teach underrepresented students. Rather than lecture, she promotes interactive learning where students practice and improve skills by applying them to relatable activities: withdrawing money from an ATM or looking for a show to watch on Netflix.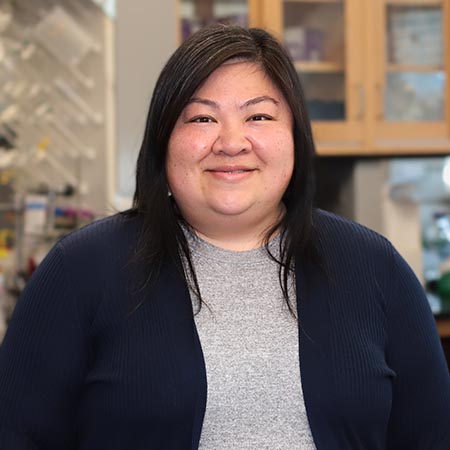 Lesley Chow 
Associate Professor
Materials Science and Engineering & Bioengineering
Inspiration
Besides soccer, Chow wasn't good at anything but math and science. She thought that destined her for medical school, but she altered that path after realizing she could help patients in other ways. She spent a summer researching how nanomaterials can help protect people from brain injury. It made her see that she could have a greater impact developing technologies to improve human health instead of treating one patient at a time as a medical doctor.
Journey
After earning a bachelor's degree in materials science and engineering from the University of Florida, Chow attended Northwestern for her Ph.D. Her research was in nanomaterials designed to grow blood vessels to support tissue and organ transplants. For example, she worked on integrating healthy pancreatic cells into diabetic mice. Her postdoctoral research took her to Imperial College London in London, U.K. There she worked on fabricating polymeric scaffolds to regenerate musculoskeletal tissues.
As a Woman in Science
It is a joy for her to watch students light up when the concepts click and they begin to shift toward independence, but as a woman in science she has faced times where students seem to question her expertise or credentials more than they would with her male colleagues. "Our knowledge as women is often underestimated, which does chip away at our confidence," she says. In addition to those moments, demands on her time remain high. Underrepresented women on campus have higher service loads as underrepresented students seek their advising and university committees seek their opinions. "While important tasks, they can pull me away from other activities, whether in the classroom, my lab, my home, or my community," she says. 
Research
Chow is focused on developing 3D-printed scaffolds that can guide cells to grow tissues in specific regions of the body. Each tissue is organized in a specific way and functions differently based on a variety of physical and chemical cues. "Studies show that early intervention is important for musculoskeletal tissue regeneration," she says. "We hope to generate implantable materials that restore tissue organization and function at earlier stages before the need for joint replacement." She is also focused on equity in her solutions so that these materials are shelf-stable and low-cost so they can be effective in many communities worldwide.
Elizabeth Young
Assistant Professor
Chemistry
Inspiration
It wasn't until junior high school that Young became interested in science. Her ninth-grade biology teacher was more rigorous than any teacher she had previously and created an environment that engaged and challenged her students. "She was more awesome than I realized at the time. Dr. Waller set high standards and demanded that we really understood the concepts," Young says. Only one student earned an A in that class for the first quarter, and, much to her hard work and chagrin, it wasn't Young (but that A-student did attend Lehigh). The class inspired Young, who worked hard and did earn an A for the rest of the terms that year. More importantly, the class sparked an interest in science that remained for the rest of high school and encouraged her to pursue more science classes.
Journey
Young attended Haverford to receive a well-rounded liberal arts education where she could also dive into the study of chemistry. While there, she began her research in photochemistry, the study of using light energy to carry out interesting and important chemical reactions. There she studied porphyrins, the compound found in natural dyes like chlorophyll. At Haverford, she had supportive female professors, Prof. Blase and Prof. Akerfeldt, who modeled what she wanted to do and provided a vision for where she wanted to be. Having these positive female role models helped her survive after she moved to the male-dominant and competitive MIT for graduate school. Her Ph.D. research in chemistry focused on using very fast lasers to measure chemical reactions — and to understand how these rates change when positive or negative particles are present. She remained at MIT for post-doctoral research in the Electrical Engineering and Science Department, applying her knowledge in light absorption to man-made devices.
As a Woman in Science
While MIT provided an amazing learning experience, she had to confront male shenanigans that tested her own fortitude and strength. "I learned how representation matters," she says. "It's important to see a person who looks like you and is navigating a similar experience." To that end, she worked to serve as a mentor and model for other women in science and joined the leadership team of a network for female mentors in chemistry (ChemWMN) as a way to give back and contribute.
Research
Young is working with an ultrafast laser, which pulses in femtoseconds, one millionth of one billionth of a second. Think of those pulses as incredibly fast stopwatches that we can use to start and then measure a chemical reaction in materials to understand what materials work best to flow charges through solar cells. That data will inform engineers as they design devices. In another project, Young is using light to understand the chemical reactions that degrade dyes used in the clothing industry to lessen water pollution in third-world countries.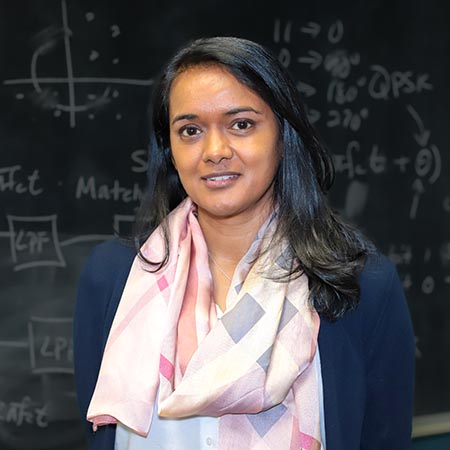 Shalinee Kishore
Iacocca Professor
Electrical and computer engineering
Inspiration
While always inclined toward math and science, Kishore at age 14 helped her father and uncle, both civil engineers, assemble a new gas grill. The families lived so nearby that they bought a BBQ grill to share at frequent family functions. She happened to be hanging around as the two men ran into trouble. She not only helped assemble it but also explained how the component parts worked and would work together. While the thanks may not have rolled in that day, the moment burned like a pilot light in her mind that a career in engineering would suit her.
Journey
As a college-bound student from an immigrant family, Kishore was encouraged to attend a state university and then get a job. She began at Rutgers in electrical engineering. During her junior year, a professor mentioned graduate school, which had not been in the picture, and explained how working as a research assistant or teaching assistant could help pay for it. Kishore did just that, earning a master's at Rutgers and then a Ph.D. at Princeton. Her research was in cellular communication technology — improving coverage, increasing the number of users in the system, and adding data capacity. Her plan to secure that job at Bell Labs after graduation ended with the dot.com bust. She then pursued academic opportunities and joined as assistant professor in Lehigh's Electrical and Computer Engineering Department, where she has been since.
As a Woman in Science
Kishore's biggest challenge in being a woman is science is the fundamental challenge in almost all STEM fields: the small number of women, which only further dwindles as you progress in your profession. To this day, she finds herself often counting the women in the room, if there are any. That being said, she feels the work environment has changed in her 20 years in academia, with colleagues working to make interactions welcoming and inclusive for everyone. Diverse perspectives are being recognized as valuable in the classroom and in research.
Research
She is involved in a range of research efforts around sustainable, resilient, smart energy systems. Some of her work looks at how to use advanced technologies to make the electricity grid more green, efficient, and adaptive. She also is doing research on the blue economy, helping bring marine renewable energy solutions that utilize ocean resources to enable sustainable economic development for ocean communities and industry. Her research also looks into cybersecurity of energy delivery systems. "As a society, we are increasingly dependent on our energy infrastructure systems, from lighting our homes and charging our phones to powering our electric cars and automating smart homes and buildings," she says. "We need to ensure that the energy systems we use are sustainable for our environment in the long term and that they are resilient to all kinds of man-made and natural hazards."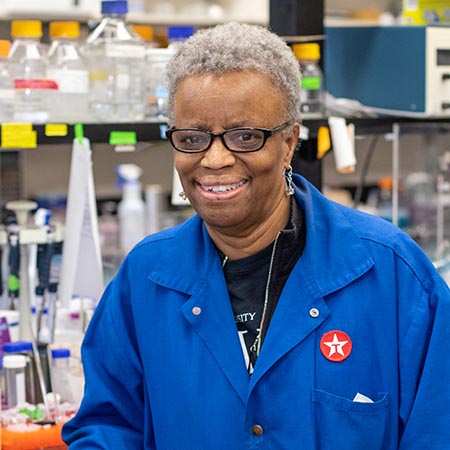 Vassie Ware 
Professor
Biology
Inspiration
Ware was people-oriented as a teen, serving as a problem solver for her friends, listening, mediating conflicts, and offering advice. On the opposite end of the spectrum, another area of interest was in taking machines apart. Her grandfather owned a farm in Virginia, and she was fascinated with the farm equipment there and the mechanics of how the machines worked to harvest crops. So, if not counseling, maybe a career in mechanical engineering would suit her. 
Journey
As an undergraduate at Brown, Ware liked all of her subjects taken in her first semester — writing, foreign language, and psychology. "Brown's curriculum was quite different than at most places, and a tremendous amount of flexibility in pursuit of a major focus was allowed. Students were encouraged to explore," she says. Thinking that psychology might be an avenue to pursue, she took several psychology courses, like physiological psychology, abnormal psychology, and child psychology. However, when personality was the next course in the plan, she realized that she favored the more experimental-biology-focused psychology courses than others. At that point Ware was on track to pursue a human biology major. While some thought that her interest in biology placed her on a medical track, she knew differently. Having engaged in undergraduate research as a sophomore, she wanted to pursue a more discovery-based path, feeling that a classic medical path was too prescriptive and lacked the creativity she relished when testing a hypothesis in the lab.
As a Woman in Science
She had several mentors at Brown who inspired expansive thought, among them her first biology professor, Walter Quevedo, and another, a young female assistant professor, Susan Gerbi, who both encouraged Ware to consider applications to graduate school to pursue a Ph.D. in biology. While she was earning her Ph.D. at Yale, there were far fewer women. In fact, there was not one tenured woman in her department at the time. That's when she drew inspiration from her mother, aunts, and grandmother, who didn't see limitations but encouraged possibilities. Ware would return to Brown to work on ribosomes with Gerbi, who had remained a mentor throughout her graduate studies. When she began at Lehigh in 1985, she was excited to be a part of the university's efforts to expand molecular biology research. In some of those early years, she was keenly aware of the dominant social structure for students on campus, sometimes being placed in situations where she had to think about her own safety more than she considered reasonable. Still, she was excited about enhancing biology at the university and chose to remain.
Research
Ware has two major research interests. The first is to understand the significance of heterogeneity found in ribosomes, the cellular machines responsible for producing proteins. She studies specialized ribosomes that have more discretion in what proteins are made and in what cells. Her research focuses on the role of specialized ribosomes in fruit fly reproductive systems, particularly spermatogenesis, which shares many common features with human systems. The second interest is to understand specific interactions between phages (viruses that infect bacteria) and their hosts. "Some phages have the ability to modify the physiology of the host and to defend the host against attack by other phages," she says. She is seeking to better understand how we can utilize or, in some cases, override such viral protections to eradicate pathogenic, antibiotic-resistant bacteria. Ware's interest in this work emerged from her engagement in the SEA-PHAGES and SEA-GENES programs, which are discovery-based undergraduate phage biology research courses sponsored by the Howard Hughes Medical Institute.
Joan Ramage Macdonald
Associate Professor
Earth and Environmental Sciences
Inspiration
While Ramage Macdonald was always outdoorsy, enjoying hiking and camping, she didn't study much science in high school. She instead was more focused on math, history, languages, and culture. As an undergraduate at Carleton College, she took a geology course in the winter term of her sophomore year. The professor, who later became a mentor, asked her students to pose questions, explore answers, and figure things out. While camping and cooking in the rain and cold during a department field trip to northern Michigan, Ramage Macdonald knew she had found a community and committed to a new major. She soon was carrying rocks down a mountain as a field assistant in Idaho and studying on a geoarchaeology excavation of an Iron Age castle in eastern Turkey as part of her senior thesis.
Journey
She pursued a master's degree in geosciences at Penn State where she began paleoglacial research, studying and reconstructing the more than 700,000-year-old Glacial Lake Lesley in central Pennsylvania. Her Ph.D. from Cornell was in geosciences, mapping and documenting changes in modern glaciers in Alaska.
As a Woman in Science
The greatest challenges have come during fieldwork as a woman alone in remote environments, like exploring abandoned quarries in Pennsylvania filled with spent shotgun shells. "It can be easy to fear the dangers no matter how you prepare," she says. "Finding ways to work around barriers and challenges is a key to enjoyment and success in science."
Research
Ramage Macdonald uses microwave remote-sensing technology of the Earth's surface to better understand the rapid fluctuations occurring on the surface of melting glaciers. In addition to contributing to understanding of glacier mass loss, the research can measure seasonal snow and determine the timing and magnitude of runoff. There are practical applications. Recent snow melt in the Ukraine led advancing Russian forces to get stuck in thawing mud (a similar problem happened to previous invading armies). "The climate is changing the fastest in the high latitudes, so we need to understand those impacts as well as be prepared to defend ourselves and our allies," she says.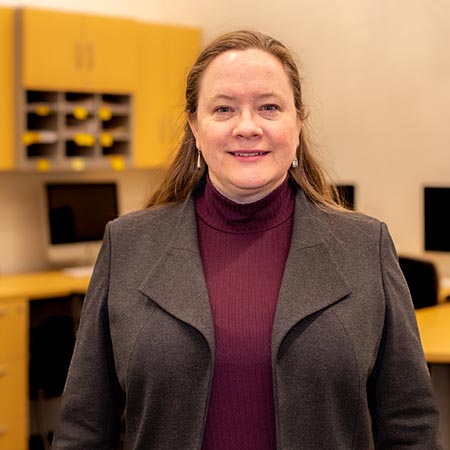 Kate Arrington
Professor
Psychology
Inspiration
While in high school, Arrington planned to be a journalist. In fact, she edited the first literary magazine created by her school. But a prescient teacher suggested to her that a career in science writing might be best. She entered Furman University as an English major, and her father, a chemistry professor at Furman, encouraged her to take a psychology class. It quickly became her major. Her second major was in chemistry. She was on a pre-med track until she interned at a hospital where she realized the weight of working with patients didn't suit her plans of being a clinician.
Journey
She completed a master's in experimental psychology at Wake Forest where she researched visual attention. In looking at the mind, how do people process information, hold it in their memories, and use it to make decisions — does the mind work like a spotlight through space or attend to specific objects? In the Ph.D. program in cognitive psychology at Michigan State, she began her investigation into multitasking, how the human mind attends to its own processes.
As a Woman in Science
While she has heard many stories from women that served as reminders that they shouldn't work in science, she, herself, has been blissfully oblivious to the common microaggressions. "I benefited in my family from generational knowledge about what the system was like," she says. "It helped me to inherit confidence and ignore the doubts that are often placed on women." She chairs Women in Cognitive Science, a society passed to her and other leaders from the original founders who first navigated this male-dominated field.
Research
Arrington served as program director for the National Science Foundation Perception, Action, and Cognition program where cognitive science intersected with computer science and engineering. "Cognitive science is no longer something that is added on to a project but instead serves as a center to the questions and approaches to address a problem," she says. "The methods, theories, and techniques offer core strengths for interdisciplinary teams."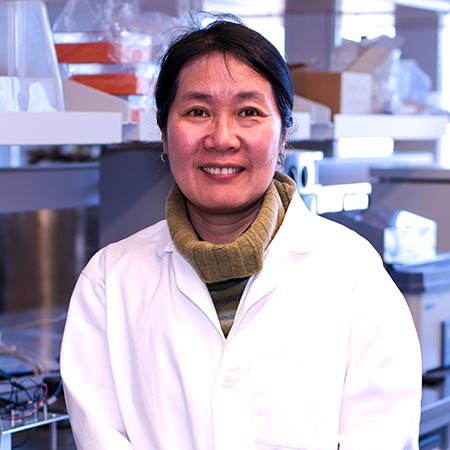 Xuanhong Cheng
Professor
Bioengineering
Inspiration
Growing up in China, Cheng was always interested in science. It just felt natural for her. She did well in the subject and enjoyed how her teachers related the subject to real life.
Journey
She studied biology at Wuhan University, China. Her undergraduate research involved engineering plants to improve resistance to pests. The work she was doing was very qualitative, yet she sought something that integrated more physics and math, so she shifted to bioengineering. In graduate school in Seattle, Washington, Cheng studied surface coatings used on implants that would better integrate with cells and not be attacked as a foreign body. She pursued postdoctoral research at Massachusetts General in Boston where she worked on diagnostic devices, specifically those monitoring T cells in HIV patients.
As a Woman in Science
"As scientists, we all face more failures than successes, but we are inspired to keep thinking and trying," she says. "We then all face the similar challenge of competing for funding and then finding answers and making something that works and is impactful."
Research
Cheng is focused on sensing diagnostics in several projects: pandemic prevention with devices that monitor the presence of viruses, detecting muscular disorders like chronic fatigue, and molecular sensing to determine flow pattern changes in blood vessels relevant for cardiovascular diseases. She also is working with Dow to develop sensors that probe wastewater for plastics.