Lehigh History & Our Founder, Asa Packer
Founder's Weekend 2023 is also part of Family Weekend. That means three days filled with fun and festivities as we celebrate Lehigh's founding and welcome families to South Mountain to spend time with students and soak up the Lehigh experience.  
We promise there will be something for every member of our Lehigh community to enjoy! Check back here for updates and schedules around specific festivities as the date approaches.
Lehigh University's history is inherently linked to America's rise as an industrial power. Our founder, the industrial pioneer, entrepreneur, and philanthropist Asa Packer, laid the foundation for a university that has since educated generations of students and served as a force of positive societal change. Learn more about our history.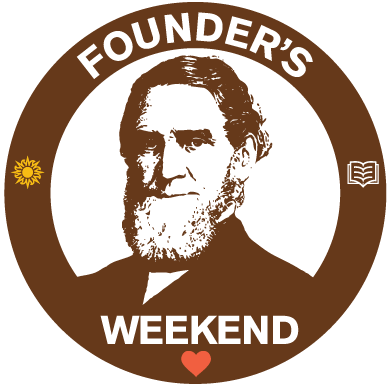 Founder's Weekend 2022 Recap
Frequently Asked Questions
Where can I stay?
Check out our list of hotel blocks here. Please reach out to hotels directly with any questions.
Comfort Suites
120 West 3rd Street
Bethlehem, PA 18015
(610) 882-9700
Book Your Stay
Reserve by Friday, August 25, 2023
Fairfield Inn
2140 Motel Drive
Bethlehem, PA 18018
(610) 867-8681
Reserve by Wednesday, August 30, 2023
Hampton Inn & Suites by Hilton – Bethlehem
200 Gateway Drive
Bethlehem, PA 18017
(610) 868-5800
Book Your Stay
Reserve by Friday, August 25, 2023
Hilton Garden Inn
1787-B Airport Road
Allentown, PA 18109
(610) 443-1400
Book Your Stay
Reserve by Friday, September 15, 2023,
Holiday Inn Express & Suites – Hellertown
2201 Cherry Lane
Bethlehem, PA 18015
(610) 838-6110
Reserve by Tuesday, August 29, 2023
Homewood Suites
2031 Avenue C
Bethlehem, PA 18017
(610) 264-7500
Book Your Stay
Reserve by Tuesday, August 29, 2023
Hyatt Place – Bethlehem
45 West North Street
Bethlehem, PA 18018
(610) 625-0500
Reserve by Monday, July 31, 2023
Springhill Suites – Marriott Allentown/Bethlehem/Center Valley
3800 West Drive
Center Valley, PA 18034
(610) 709-9797
Book Your Stay
Reserve by Wednesday, August 30, 2023
Sonesta Select
2160 Motel Drive
Bethlehem, PA 18018
(610) 317-6200
Reserve by Friday, September 8, 2023
Sonesta ES Suites
2180 Motel Drive
Bethlehem, PA 18018
(610) 317-2662
Reserve by Friday, September 8, 2023
Wind Creek Bethlehem
77 Wind Creek Boulevard
Bethlehem, PA 18015
(877) 726-3777
Reserve by Wednesday, August 30, 2023
Holiday Inn: Allentown-Bethlehem
4325 Hamilton Boulevard
Allentown, PA 18103
(610)366-1600
Book Your Stay
Reserve by Tuesday, August 29, 2023