For guys at Lehigh living in the Kap Lodge, the familiar name of the Kappa Alpha Society building, late-night eats during the 1970s and early 1980s after an evening of studying or (sometimes) carousing were hard to come by.
"We always had a loaf of Wonder bread and jars of peanut butter and jelly in the kitchen," says Curt Schmidt '75. "But the chef had Saturday nights off, and the refrigerator was locked."
The University provided food options for meal plans but didn't offer after-hours service. Southside Bethlehem was a very different place as the steel mill was bustling and working families filled neighborhood houses. Many fraternities moved onto "The Hill" from their South Bethlehem neighborhood residences in the 1960s.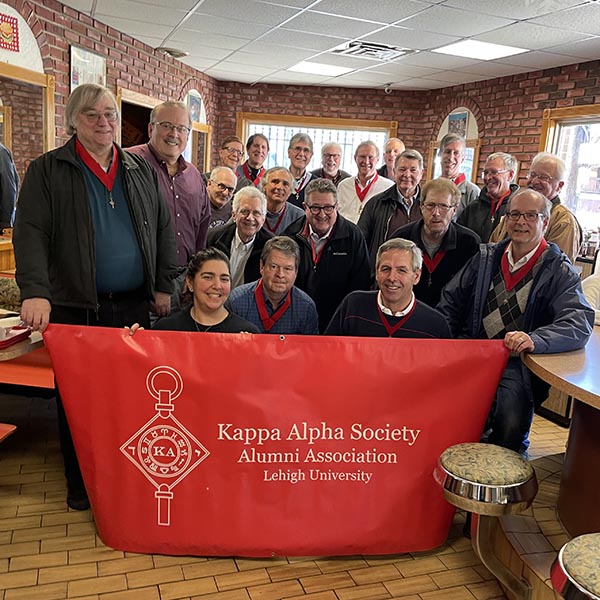 There was an Italian restaurant nearby, but it was for occasions, like a visit from parents and family. A seafood restaurant served well for date nights. There was also a diner out on Route 222 if one had a car and wanted a drive. Same with Pizza Como in Allentown. Of course, Campus Pizza and Mollie's Pizzeria were close at hand.
But the standby was Pete's Hot Dog Shop.
"It was comfort food," says Kenneth Tower '79. "Reliable. Consistent. And quick."
Sadly, Pete's permanently closed its doors in March after serving food from the same location, one block east of the Five Points intersection, for four generations.
Founded in 1937, Pete's was a Lehigh tradition, particularly the Greekers.
"It had a steamed bun, mustard, onions — either stewed or raw — and a secret sauce," says Peter Hauser '77.
"The sauce was the key to the whole thing," says Tower. "It was like a chili that didn't soak into the bun — somewhere between a liquid and a solid."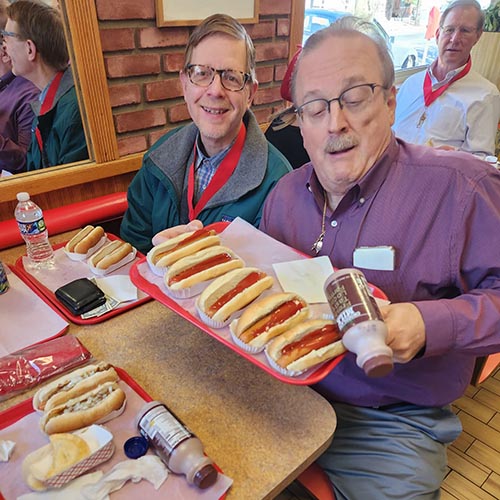 "Three for a dollar," says Schmidt. "Perfect when finals week rolled around and our pockets were nearly empty."
Of course, Pete's had stewed hamburgers, pierogies (no salt!), and chocolate milk. But it was the Greeker that brought people back over and over.
That happened again as The Kappa Alpha brothers reunited at Pete's for their final Greeker.
Tower had the idea for one more trip. He hijacked an email list for another get-together and sent out a note. It caught fire as news spread of a last run to Pete's. Soon there were more than 30 alumni with plans to travel back. They came from as far as California, South Carolina, and Connecticut.
While some had been to Pete's since graduation as part of trips to campus for meetings and sporting events, others hadn't had a Greeker since their Lehigh days. Even a vegan came back, willing to compromise his diet for one final taste of glory.
"These hot dogs galvanized us," says Tower.
A few guys took a preliminary trip just to make sure their plans would work with the owner … and to ensure the shop had enough supplies on hand.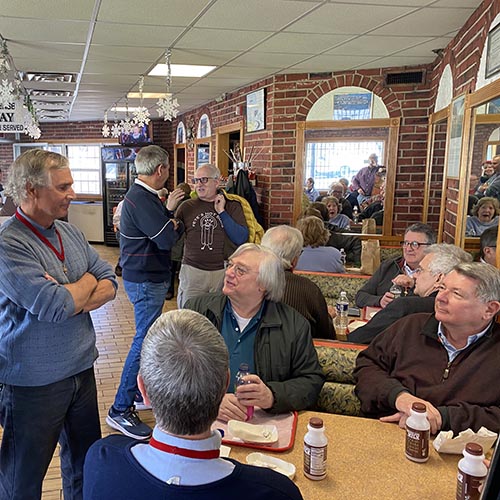 At the fateful lunch, guys arrived and packed into booths. Not all of them knew each other. Not all of them graduated in the same decade. But all loved to swap stories and relish lost memories.
"Pete's was our go-to place," says Victor Styzko '80. "We are going to miss it."
"We know that everything changes," says Tower.
"But the bonds we made as undergrads and renewed that day will go forward," says Mark Yoder '82.
"We came back for the hot dogs, but were fed that day by the stories," says Schmidt.