During a special evening this Founder's Weekend at Lehigh University, six alumni from across the country were honored for the extraordinary achievements and impact they are making while leading lives of consequence. Donors were also inducted to the newly launched 1865 Society, which recognizes those who have made extraordinary, transformative philanthropic gifts to the university of more than $1 million.
"Lehigh's reputation continues to grow because of the impact our alumni are making in their workplaces, in their communities, and, yes, on campus."
President Joseph J. Helble '82 and Assistant Vice President of Alumni Relations Jennifer Cunningham presented the Distinguished Alumni Awards at Lehigh's Leadership Recognition Dinner to Sam Bencheghib '19, Krystal Kaʻai '10, Karen Shihadeh Schaufeld '83 '15P '17P, Stephen S. Tang '85G '88G '22P, Judy Marks '84 '13P, and Murray H. Goodman '48 '88H. The awards program recognizes exceptional achievements among alumni in categories that uplift people, programs, and industry.
"We are proud that these award recipients are part of our very distinctive Lehigh community," Helble said. "Since 1879, that community has come together to honor Asa Packer and to celebrate the leaders who continue to shape this great university to this day. Lehigh's reputation continues to grow because of the impact our alumni are making in their workplaces, in their communities, and, yes, on campus."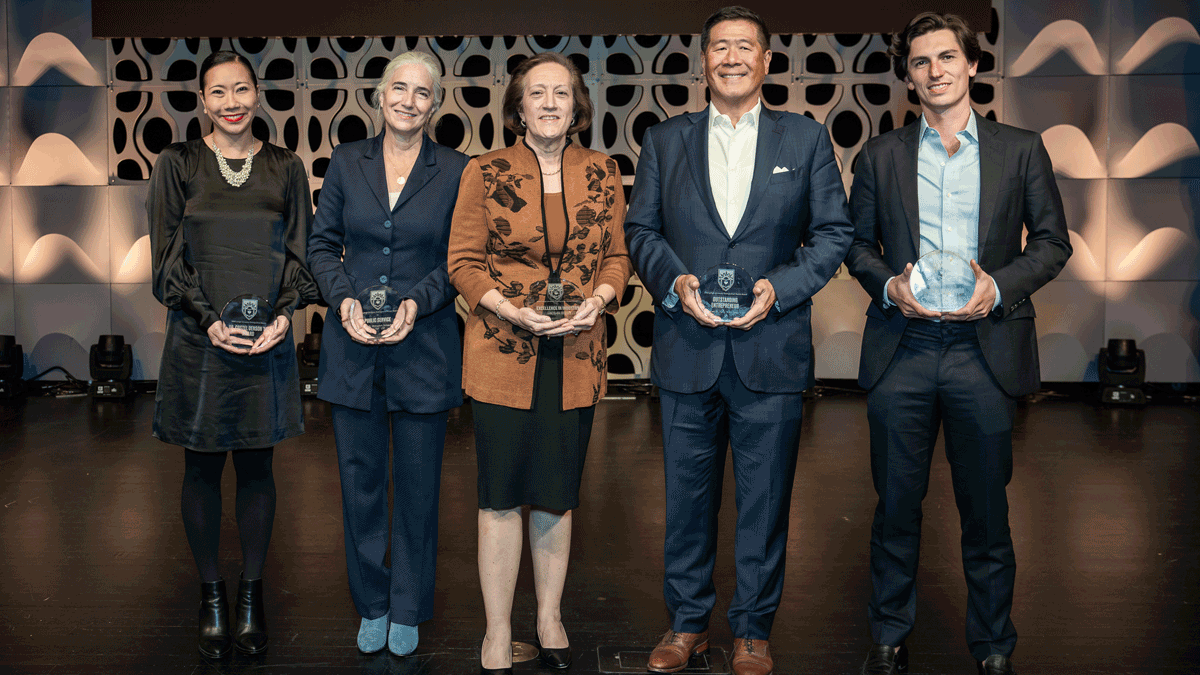 Joseph Buck, vice president of development and alumni relations, thanked inductees to the 1865 Society, calling them "a community of extraordinary philanthropists. Your gifts are the foundation upon which we stand, and we are grateful to you for your commitment to Lehigh University."
New inductees included Katherine L. Chen '80G and John C. Chen, Wanda Rivera and Roy Cravzow '61, Cathy Engelbert '86 '23P, Alissa '22P and Joel Isaacson '80 '22P, Suzanne V. and Charles F. McClurg '59, Tara I. Stacom '80 and Arthur H. Diedrick, and Priscilla K. and Lawrence A. Walsky '58. Kevin L. Clayton '84 '13P and his wife, Lisa A. Clayton '13P, were also recognized as new members of the $20 million circle. All inductees have their names engraved on the stone benches of Leadership Plaza outside of the Alumni Memorial Building.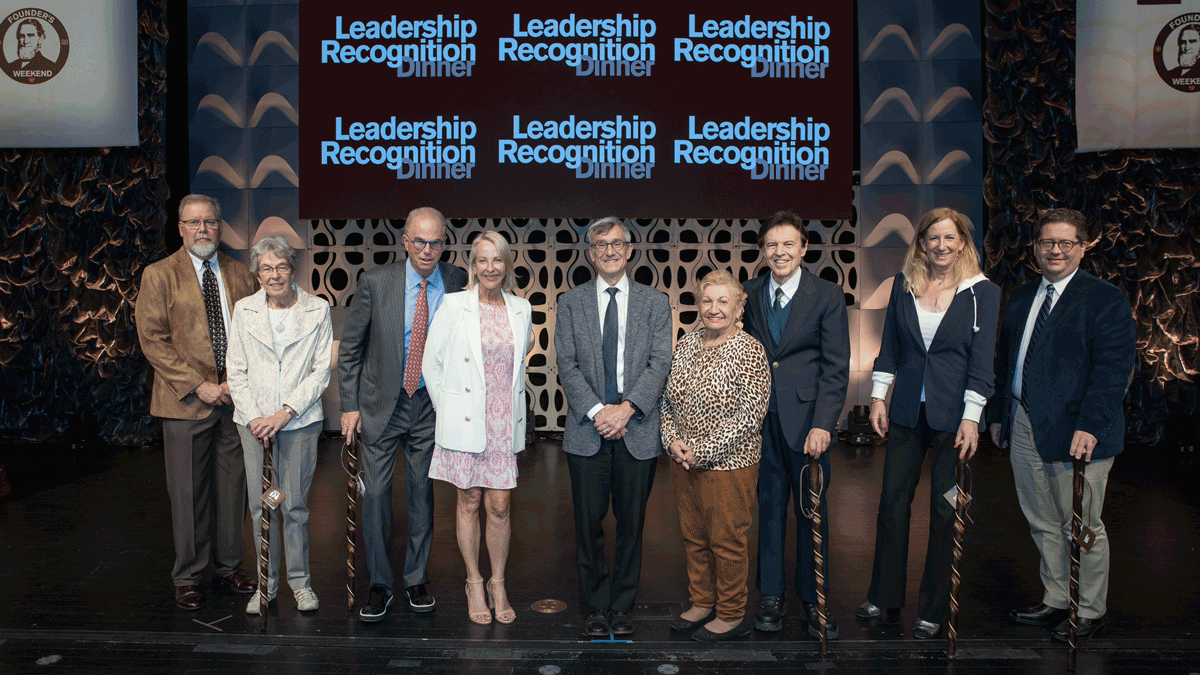 The Lifetime Commitment to Lehigh Award was presented to Goodman, longtime Lehigh philanthropist and founder and chairman of Goodman Properties, Inc., a real estate development and investment business specializing in retail commercial properties. The award recipient is an individual whose integrity, dedication, and engagement demonstrates lifelong leadership and service to Lehigh University.
 
"I owe my success in life to the education I received at Lehigh and the friendships that I made here," Goodman, who was unable to attend, said via a statement read by Joe Sterrett '76 '78G '03P '05P '07P '09P, Murray H. Goodman Dean of Athletics and Director of Athletics. 
 
"Murray Goodman remains and has been an extraordinarily generous man, sharing his time, his talents, and his treasures with Lehigh, throughout his exceptional lifetime. He has truly helped make Lehigh a better and more distinctive university," Sterrett said, prompting a standing ovation from the audience.
 
Bencheghib, co-founder of Make a Change World, a media outlet and environmental organization dedicated to promoting sustainability and solutions to plastic pollution, received the Young Alumni Award, given to an alumnus who graduated within the past 15 years and achieved extraordinary success in leadership. 
 
"If Lehigh taught me anything, it was that we have to be bold in what we believe in," Bencheghib said. He invited the Lehigh community to join him in the fight against plastic pollution.
"It's here at Lehigh, through everything that I experienced, that I learned to do good, to serve the community, to be part of something bigger."
Kaʻai, executive director of the White House Initiative on Asian Americans, Native Hawaiians, and Pacific Islanders, received the Dr. Costel Denson '56 Award, presented to an individual who has demonstrated exceptional leadership in increasing diversity in the American workplace or educational institutions. Dr. Denson's wife, Dr. Carol Denson, was in the audience to see the award bestowed.
 
"There's a saying in Washington that if you're not at the table, you're on the menu," Kaʻai said. "It shows how important it is to have representation at all levels – within academic institutions, the federal government, and corporate boardrooms. I'm so grateful to be in a position where I'm able to advocate for traditionally underserved and underrepresented communities."
 
Schaufeld, CEO of SWaN Hill Top House Hotel LLC, formed with the goal of restoring the historic Hill Top Hotel in Harpers Ferry, West Virginia, received the Public Service Award. She is also the founder and president of 100WomenStrong, a granting organization whose mission is to enhance the lives of residents in Loudoun County, Virginia, and co-founder of All Ages Read Together, a school readiness program for low-income preschoolers. The award is presented to an individual who made   extraordinary contributions in the public sector or nonprofit and civic arena. 
 
Schaufeld said the most transformative example of philanthropy she witnessed was the Class of 1955 scholarship that paid for her tuition and enabled her to attend Lehigh. "I'm so thankful for the opportunity I've been given, one that prompts me to see how I can give opportunities to others."
 
Tang, former president and CEO of OraSure Technologies, Inc., a medical device company whose products include diagnostic testing kits, received the Outstanding Entrepreneur Award, which is given to an alumnus who demonstrated high achievement in managing an enterprise. 
 
"One of the most misunderstood things about entrepreneurship and innovation is that it's about the big wow, the big idea. A lot of it is," Tang said. "They say the great innovators discover the airplane, but the pragmatists have to be there to discover the parachute."
 
Marks, the chair, CEO, and president at Otis Worldwide Corporation, the world's leading company for elevator and escalator manufacturing, received the Excellence in Industry Award, given to an alumnus who demonstrated high achievement in managing a for-profit organization.
 
Marks said she tells her team at Otis that, if we do good, we'll do well. "It's here at Lehigh, through everything that I experienced, that I learned to do good, to serve the community, to be part of something bigger."