Lehigh executive chef Mike Gronczewski won't be at work on Monday, February 13 — the day after Super Bowl LVII. The Philly native anticipates an Eagles Super Bowl victory.
And we all saw what happened on Broad Street last time ...
"You might see me out in that crowd screaming and hollering if they win," Gronczewski laughed. "Not climbing any light poles, though."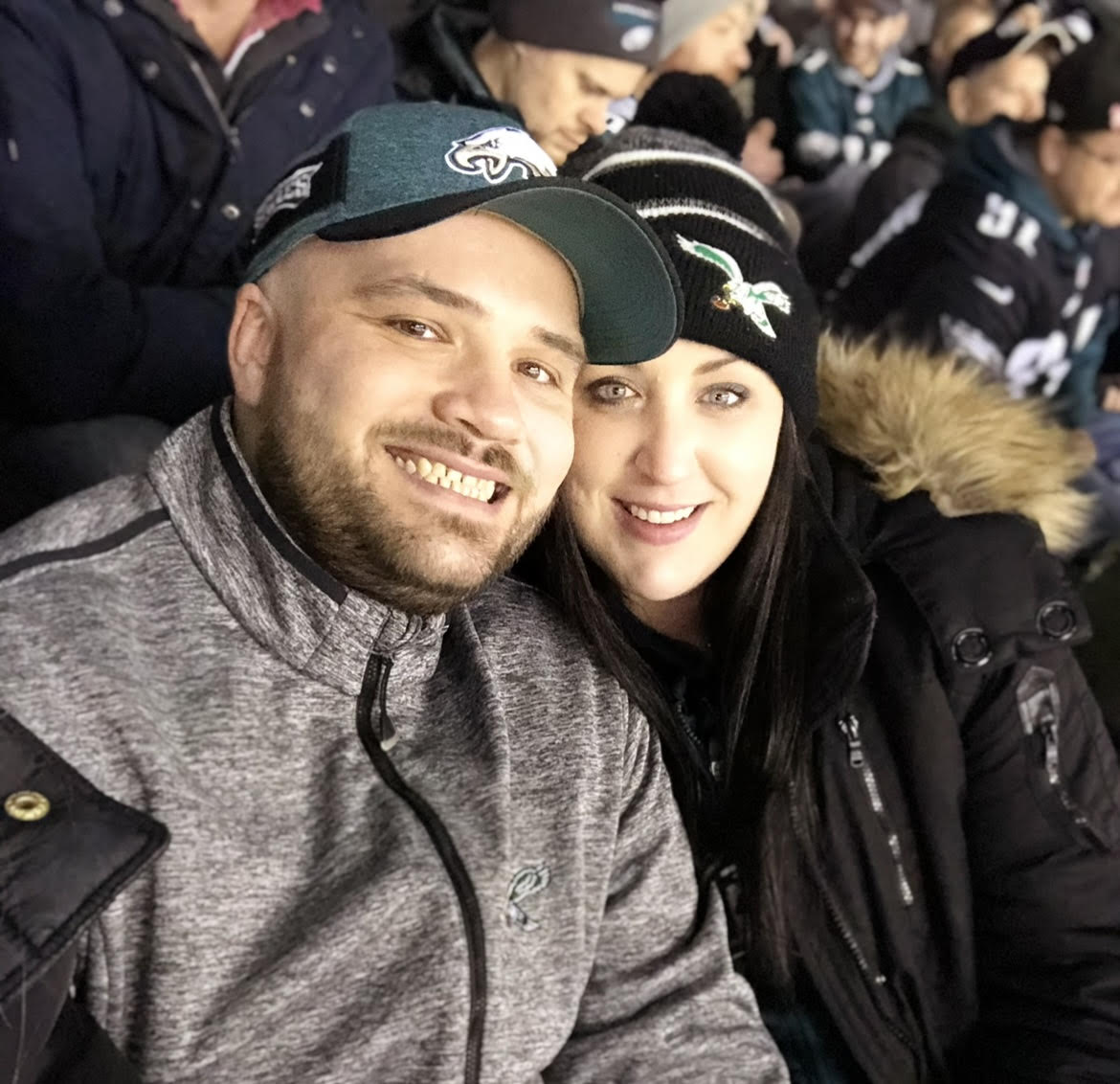 Gronczewski is a Philly sports fanatic and will spend Super Bowl weekend in his hometown with his family of diehard Eagles fans. Growing up in Northeast Philly, Gronczewski's fandom is expected, but he also shares professional and personal ties to the local teams.
Before Lehigh: Gronczewski spent five years at the Wells Fargo Center and Citizens Bank Park — the homes of the Philadelphia Flyers, Sixers, and Phillies. With the Flyers and Sixers, he was a personal chef for players and team ownership. Working for the teams offered Gronczewski face time with childhood sports heroes like Allen Iverson, Julius Erving, and Ron Hextall.
For a Philly guy who started his culinary career as a teenage dishwasher for a small caterer, working for these teams was a dream come true. In fact, working for these teams led him to the woman of his dreams too. 
Gronczewski and his fiancée, Colleen Siddall, who is also a chef, met while working in the Wells Fargo Center years ago. The couple shares a love for the Eagles, but Gronczewski assured us a midnight green-themed wedding is not in their future.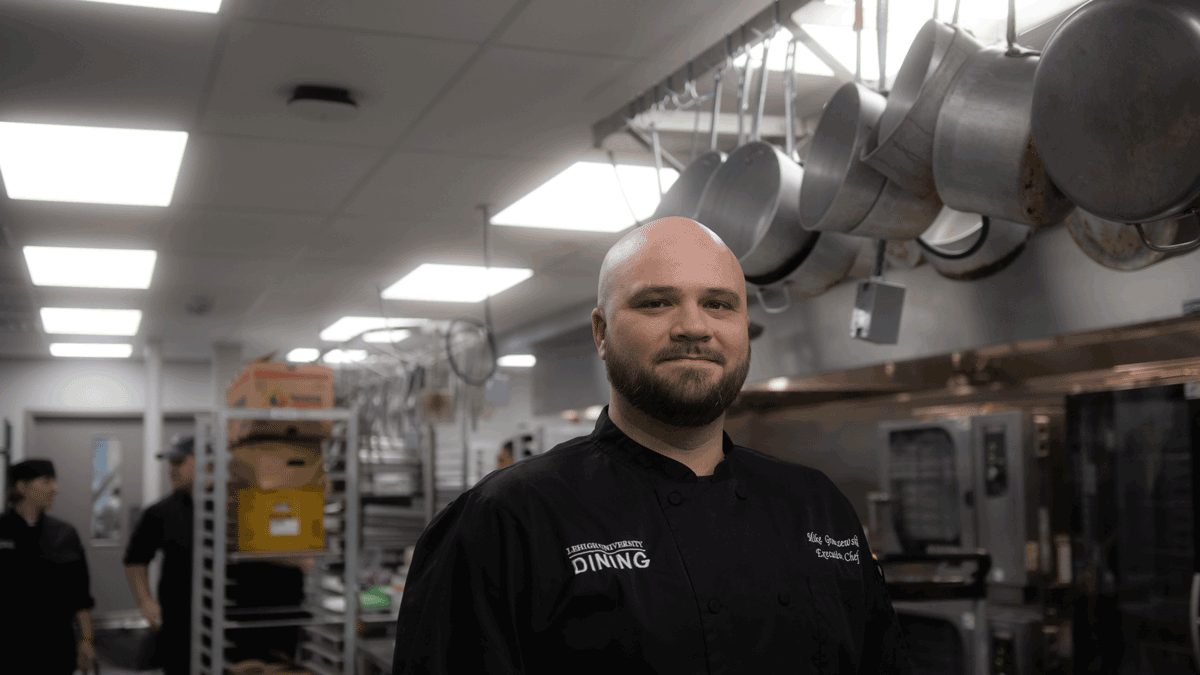 So, how did Gronczewski end up working at Lehigh? The well-documented disruption the COVID-19 pandemic had on the dining industry. After losing their jobs in 2020, the couple found work in the Lehigh Valley and relocated. 
Gronczewski took a walk-in interview at Lehigh that turned into an hourly dining hall job in the Clayton University Center. Preparing meals at the Clayton UC, Gronczewski enjoyed the shift in his clientele. He loves the appreciation from students and becoming a part of the campus community.
"Food definitely gets students out of their shell," said Gronczewski. "I personally haven't been through college, so I can't imagine the kind of stress the students go through on a daily basis. So whatever I can do to help them out of that is a plus for me."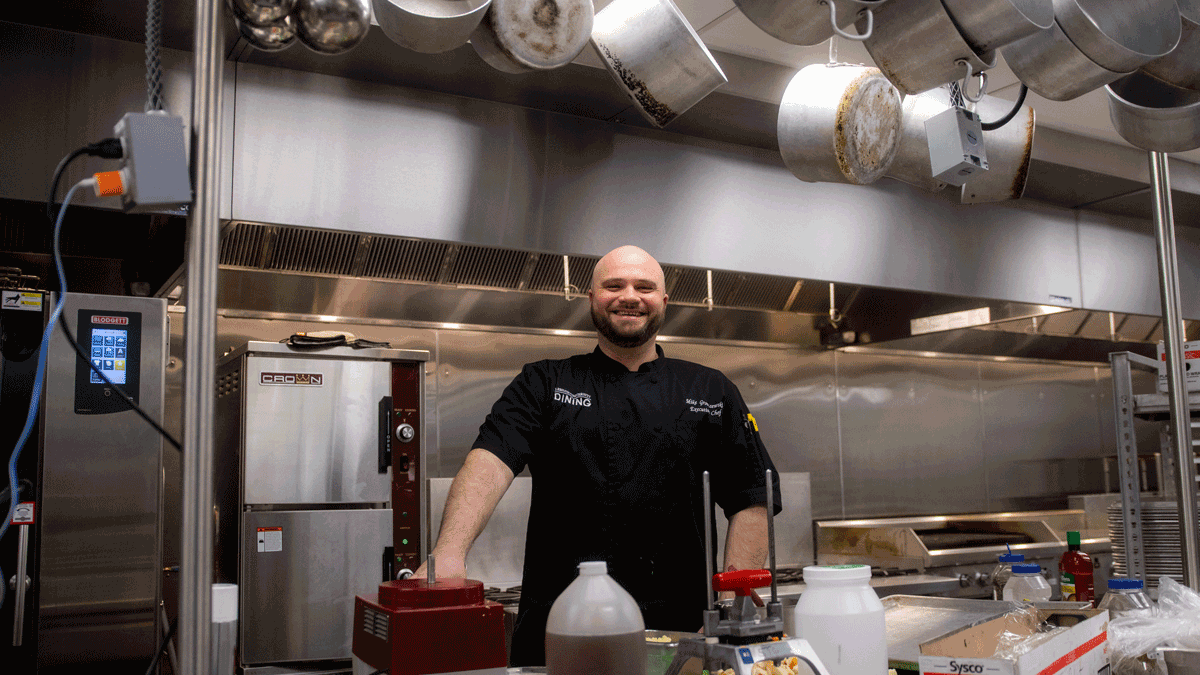 Fast forward two years later: Renovations for the Clayton UC have begun, and Gronczewski has been promoted to executive chef. Though he and his team spend their days on Goodman Campus as construction continues, Gronczewski looks forward to the reimagined Clayton UC dining.
"We're definitely excited for the new approach to the dining hall experience," Gronczewski said. "A lot of fresh ingredients. Locally sourced products. Very big emphasis on allergy-sensitive students. We're also going to take a broader approach to worldly comfort food, not just looking at what we like in America, but what everyone else likes too." 
Photos by Evan Qi '26